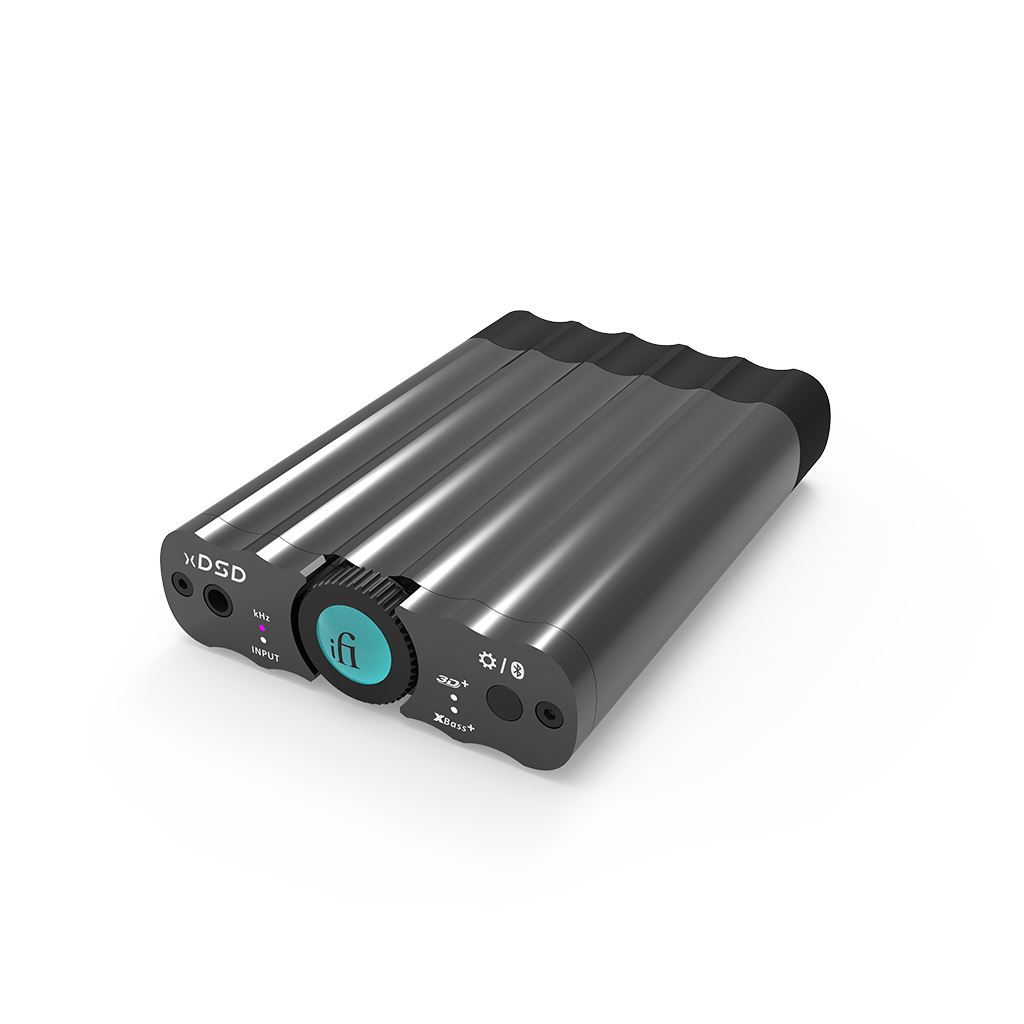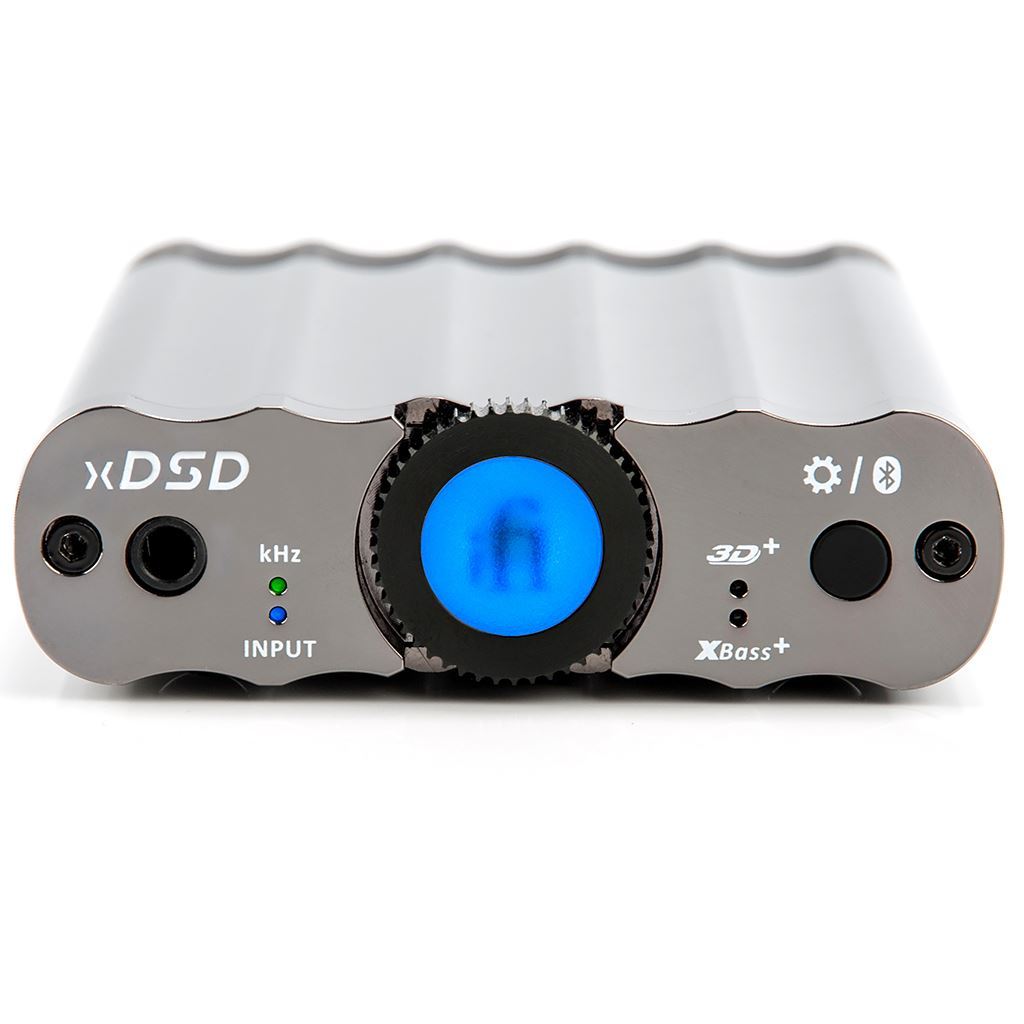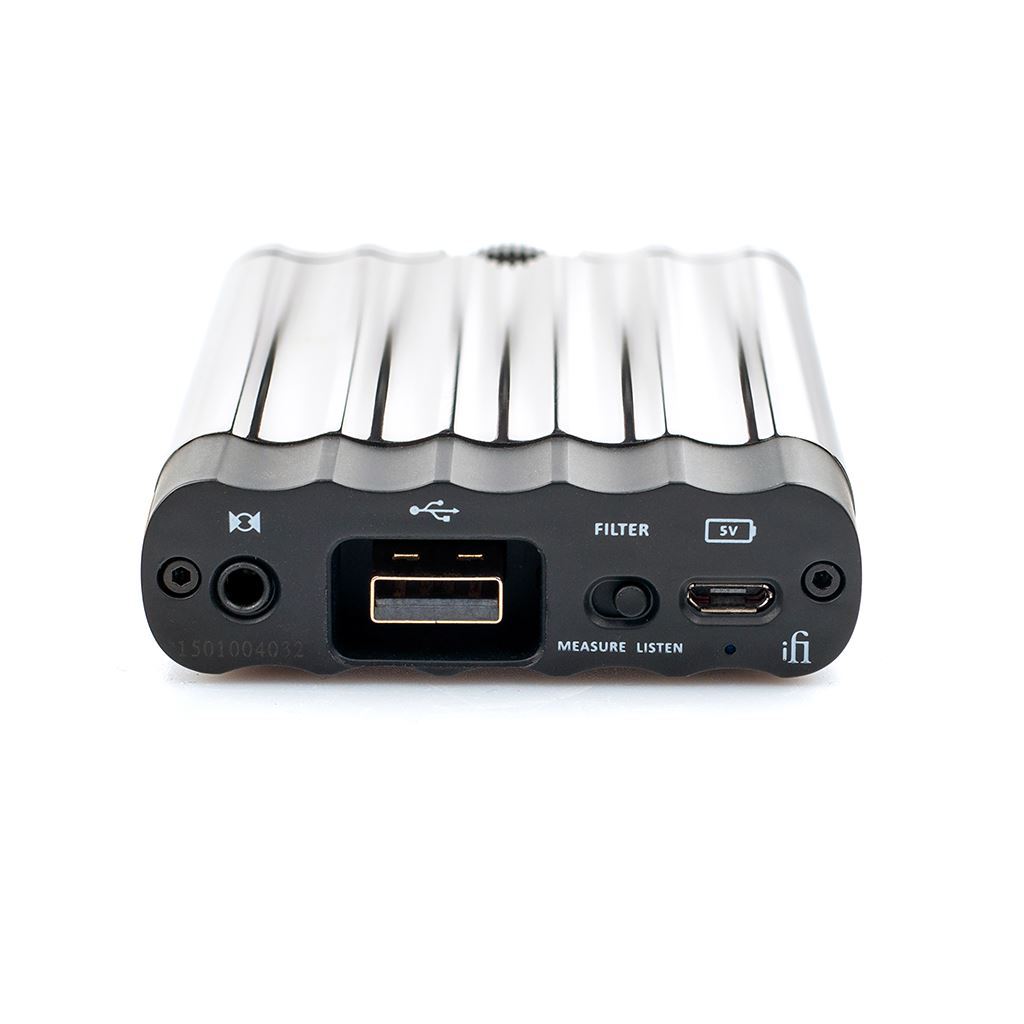 iFi AUDIO xDSD
---
The iFi Audio xDSD is a high-resolution portable Bluetooth USB DAC designed to deliver sonic clarity from a variety of playback sources for audiophiles, audio engineers, and music lovers at home or on the go. Its built-in LiPo battery powers it for up to ten hours and is rechargeable via USB. Stream audio wirelessly via Bluetooth with AAC and aptX support, connect a smartphone or computer to the USB Type-A port, or route a S/PDIF signal into the 3.5mm input jack.
The xDSD supports resolutions up to 24-bit / 192 kHz via S/PDIF, up to 32-bit / 768 kHz PCM via USB, and up to 24.576 MHz DSD512 via USB. Selectable tone enhancements include the 3D+ Matrix, XBass+, and two digital filters. The 3.5mm TRRS/TRS output supports balanced and unbalanced headphones and is driven by the Cyberdrive headphone amp for low noise and robust output levels. The xDSD's compact enclosure is constructed from 6063-T5 aluminum-magnesium alloy for strength, durability, and low mass.
AAC- and aptX-enabled Bluetooth raises sound quality to CD-standard levels. The xDSD can store up to eight paired Bluetooth devices. Wired, the USB Type-A OTG/CCK connector offers premium audio performance for smartphones, laptops, and USB-enabled DAPs with resolutions up to 24.576 MHz DSD512 and 32-bit / 768 kHz PCM. The 3.5mm coaxial/TOSLINK combo S/PDIF input gives older DAPs and disk players a new lease of life as a transport to serve the xDSD with full-resolution audio up to 24-bit / 192 kHz.
From the Burr-Brown multibit DSD1793 DAC chipset to the femto precision GMT clock and intelligent memory buffer system derived from AMR Audio's flagship DAC products, the xDSD is packed with the technology it takes to deliver jitter-free, musically-pleasing sonic performance.
Ready for Tidal MQA out of the box, the xDSD also supports 11.289 MHz DSD and 32-bit / 384 kHz PCM. Alternative firmware is available for unlocking DSD512 sample rates and PCM audio up to 32-bit / 768 kHz.
iFi's S-Balanced technology delivers maximum performance from single-ended and balanced headphones alike. Compared to standard balanced circuitry, noise and distortion are lowered by up to 9 dB. Even with non-balanced headphones, crosstalk and related distortion are reduced by 50%. Compatibility for both balanced and unbalanced headphones is straightforward thanks to the 3.5mm TRRS/TRS jack.
The analog signal-based 3D+ Matrix circuit creates a holographic sound field akin to listening through speakers in a room. Designed to offset the subtle bass response in many open-back headphones, the XBass+ circuit restores deep, clean, and tight bass without muddying up the midrange. You can even switch between the transient-optimized, minimum-phase Listen filter and the frequency response–optimized Measure filter.
Whether at home or in the car, the Line Out mode means the volume control, 3D+ Matrix, and XBass+ are bypassed in order to configure the output stage for the best line-level operation. This effectively avoids double-amplification.
The Cyberdrive headphone amplifier stage is one of the pivotal circuit designs in the xDSD. It places all parameters of the fully analog system under digital control for a best-of-both-worlds scenario. The Cyberdrive design incorporates the iFi-exclusive OV4627 ultra-low noise FET input op-amp and W990VST digitally controlled stepped attenuator to deliver uncompromising sound quality.
Front- and rear-panel LEDs indicate battery status, audio format, input mode, volume level, and active processing functions.