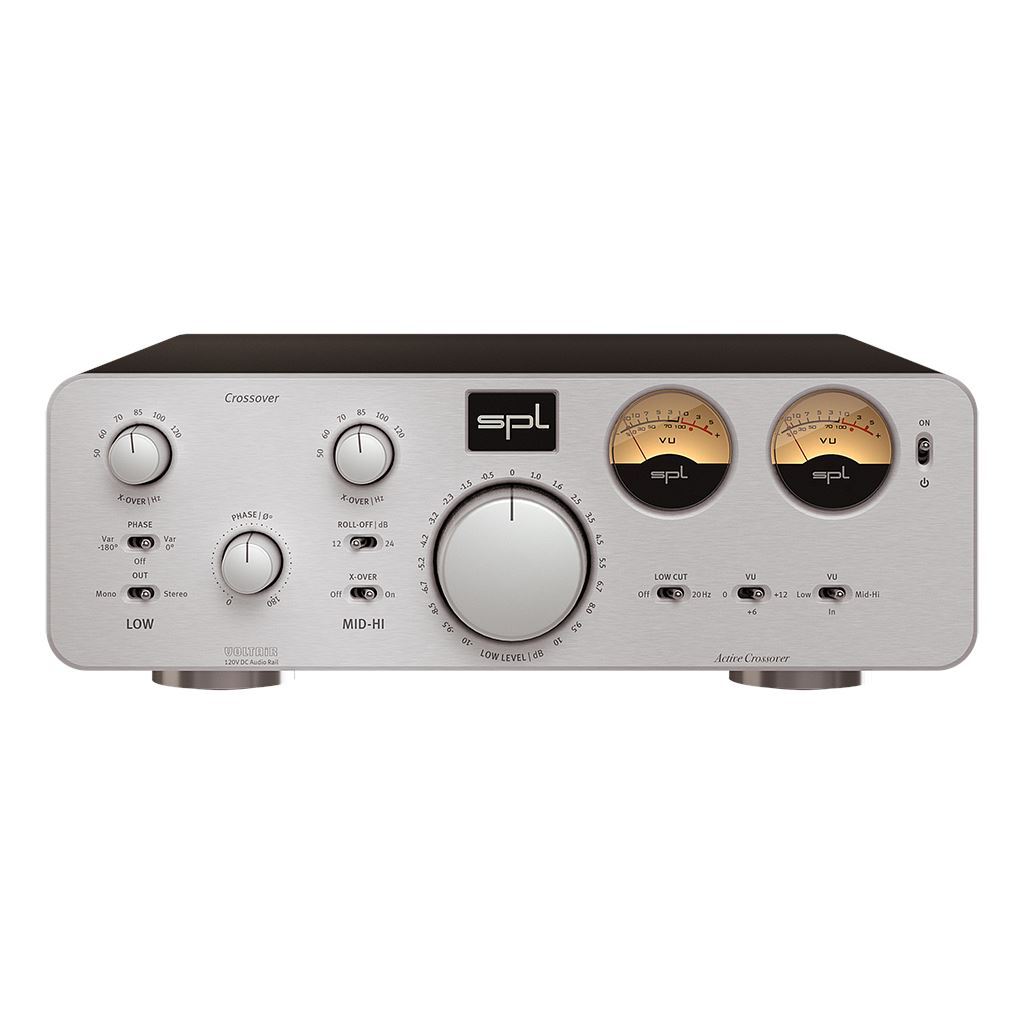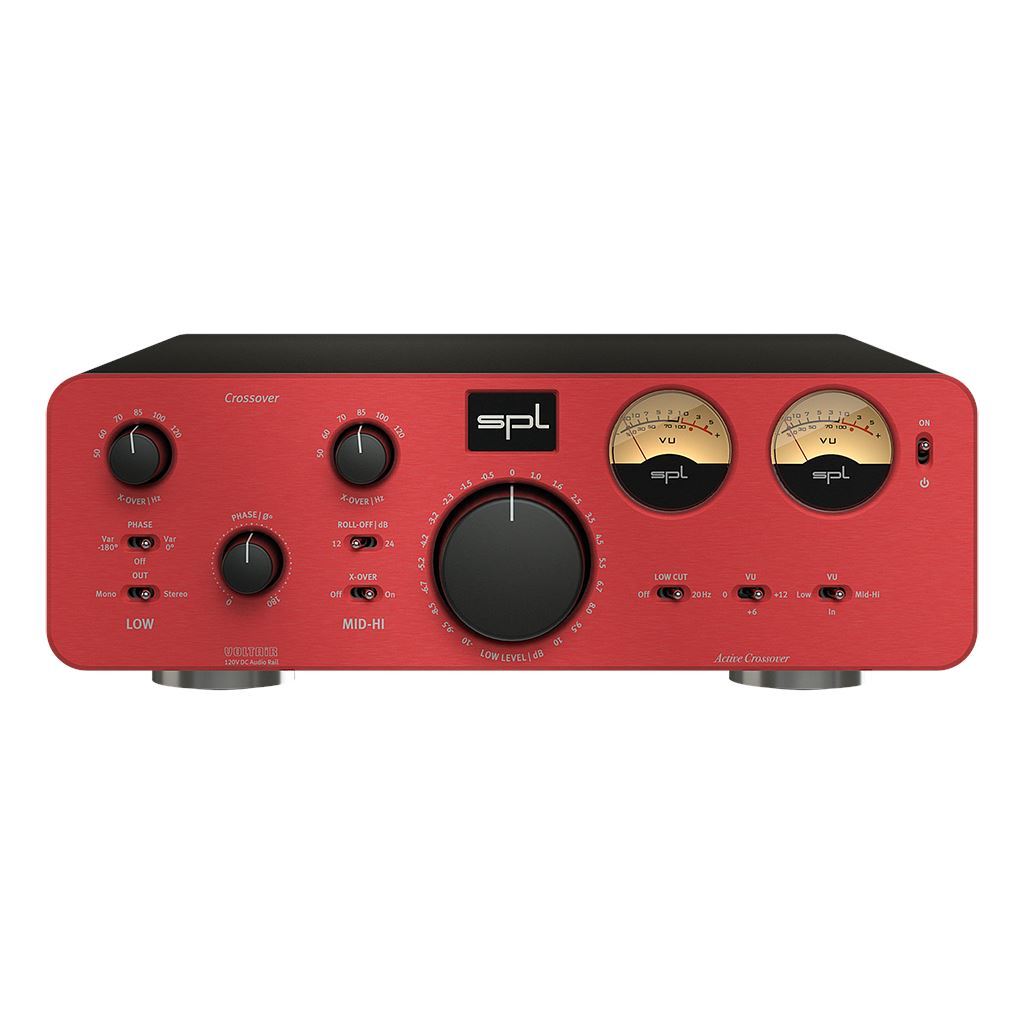 SPL Crossover Active Analog 2-Way Crossover
---
The SPL Crossover is an active, analog 2-way crossover to coordinate your main speakers with your subwoofer, doing so without any DSP or analog-to-digital technology at all. The unit splits your signal, diverting midrange and high-range audio to your main monitors, and leaving the lows to route to the subs. The design utilizes SPL's 120V rail technology to ensure high headroom and crystal clear performance, and makes use of switches and pots to select among crossover frequencies, phase positions, low-level, and more. It's designed to work in both 2.1 and 2.2 setups, so if you utilize stereo subwoofers, this device will be suitable for your uses.
The unit splits signal into two sections: Low and Mid-Hi, doing so at ranges from 50 to 120 Hz in 6 different steps. The roll-off frequency for the Mid-Hi section can be 12 or 24 dB for octave to better complement your set up. Time aligning the low-end is very important, and this can be done via the flip of a phase switch, or on a continuously variable basis, giving you a full 360° of phase options to select among.
A low-cut filter is on hand to roll off frequencies below 20 Hz, which can be useful in keeping power amplifiers from trying to produce virtually inaudible frequencies that can cause sonic interference—and not a lot more. You can also vary the output of the subwoofer section on this device, doing so with a range of 20 dB. With the 3.5mm Control section, you can power up to four compatible power amplifiers straight from the Crossover, sending them 12V signals to switch them from stand-by to on.
Low Section
General Controls
In the Low section, you'll see controls for crossover frequency, level and phase. You can also select between operations for one or two subwoofers, depending on your setup.
Output Switch
If your playback system consists of two top speakers and a single subwoofer, set this switch to mono. The left and right channels are then summed to mono to feed the subwoofer. The mono LOW signal is then passed to both Low outputs, and you can select either one to drive your sub.
Low X-Over Switch
The Low crossover filter is a Linkwitz/Riley design. The roll-off is 24 dB per octave. Set the crossover frequency with this switch. Available crossover frequencies are: 50, 60, 70, 85, 100, and 120 Hz.
Phase Section
The PHASE switch and PHASE potentiometer time-align the subwoofer (or subwoofers) with the top speakers. This is especially useful when the subwoofer is placed elsewhere in the room. If you set the PHASE switch to position "Var -180°", you can use the phase potentiometer to vary the signal continuously between -180 and 0°. If you set the Phase switch to position "Var 0°", the potentiometer will operate between 0 to 180°.
Level Knob
Set the overall level of the subs with this potentiometer. The control has a range of ±10 dB. It allows you to finely control the level of your subs in relation to your top speakers.
Mid-Hi Section
General Controls
The Mid-Hi section gives you various control over the frequency and roll-off of the top speaker's crossover.
Crossover On/Off
If you want to drive your top speakers full range, set this switch to off. The signal will then pass to the outputs without processing. Switch to on if you want to switch among frequencies with the X-Over and Roll-Off switches.
X-Over Switch
Select the crossover frequency for the mid-hi bands with this selector. You can choose among 50, 60, 70, 85, 100, or 120 Hz.
Roll-Off Switch
This switch can be set to two different slopes, 12 dB per octave (Butterworth), and 24 dB per octave (Linkwith/Riley).
Low-Cut Switch
With the Low-Cut switch, you can engage a cut filter for frequencies below 20 Hz. The roll-off is 12 dB per octave. Both the Low and Mid-Hi sections are affected by this filter. It is used to filter out frequencies that do not contain musical content but demand a lot of power from the power amplifiers.
Amp Control I/O
The Crossover sports 3.5mm inputs and outputs for triggering compatible units from standby to on, using a 12V trigger. If you own an SPL device that supports Amp Control outputs, you can trigger standby and operation of the Crossover. Just connect the Amp Control output of any compatible SPL device to the Crossover's Camp Control input. The Crossover has four trigger amp control outputs to switch up to four power amplifiers simultaneously. If the Crossover is triggered via Amp Control input section, the connected power amplifiers are triggered too. You may also use 12V trigger controller from third party developers. Use cables with 3.5mm mono mini jack plugs, where the tip is plus and the sleeve is minus.